We live in ironic times.
I recently read the following by the famous author anonymous:
Roads are empty but it is impossible to go on long drive.
Friends have time to sit together but they cannot get together.
I too received few calls from very successful entrepreneurs and professional friends who use to think that online branding is either childish, slimy, narcissistic or at best unnecessary; suddenly seeking advice on how to build an online + social media presence?
According to them, during the lock down they were suddenly caught in the tide. Despite their many accomplishment and achievements in real life, none of it was actually documented online.
Worst of out, some of them don't even exist online?
Knowing that I have some what established a digital footprint (not a lot, but enough):
They asked what is my best advice for them?
I said, first google yourself. See if you can find yourself.
See if you like what you see? Especially the image box. Is that you?
If it is you, do you like the way you look? Credible?
If not, what you going to do about it?

They also asked should they hired professionals to help them build contents?
I said if you have the budget, that would would the best option.
However , I told them the professionals cannot be around them all the time.
And we the professionals are definitely not cheap.
The best is to learn to create and build their own content.
They asked if I can teach them?
I said my industry colleague would not like it that i am giving away years of experience and insiders secrets.
But after long discussion with my wife, she says we live in such crazy and desperate times, we cannot be selfish. We see so many friends struggling, pivoting and fighting for survival and she knows I can help. And she added,I ought to help those who are willing and trying to help them self.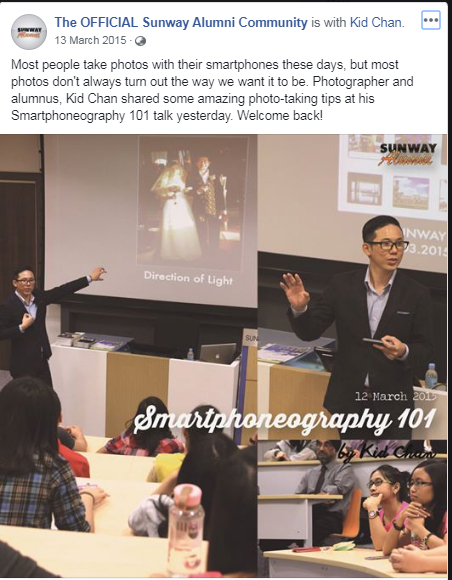 As such, I will be doing a one class only seminar this Saturday at Rm48 only teaching you how to build better content with a smartphone. Probably the same device you are reading this with.
I be teaching the same class on zoom what I am paid for RM1800 for a 1.5 hour 1 to 1 class and thousands of ringgit to deliver for corporates like Le Cordon Bleu, Sony, HTC and WD!
Check out what some of my previous participants for Sony's Smartphone Workshop says:
It is only RM48. Less that what you pay for your kids tuition.
Yes, RM 48 only. You can't belief your eyes right? 🙂
Date: 9th May 2020
Time: 10:00-11.30am
Venue: At the comfort of your home (Zoom Link will be provided)
Fee: RM48 only
Limited to 15 paxs.

So hurry, and register now or https://wa.me/60122159933 for more details now.
Cheers,
KID