Free Inspirational & Motivational Desktop Wallpaper
Dear All,
I love taking pictures and over the years i have taken lots of them. So i thought why not put it to good use. Some of you may be aware that I also love reading. Through reading i found many quotes that inspired me.
So i decided to put them together to share with you so that you might also be inspired.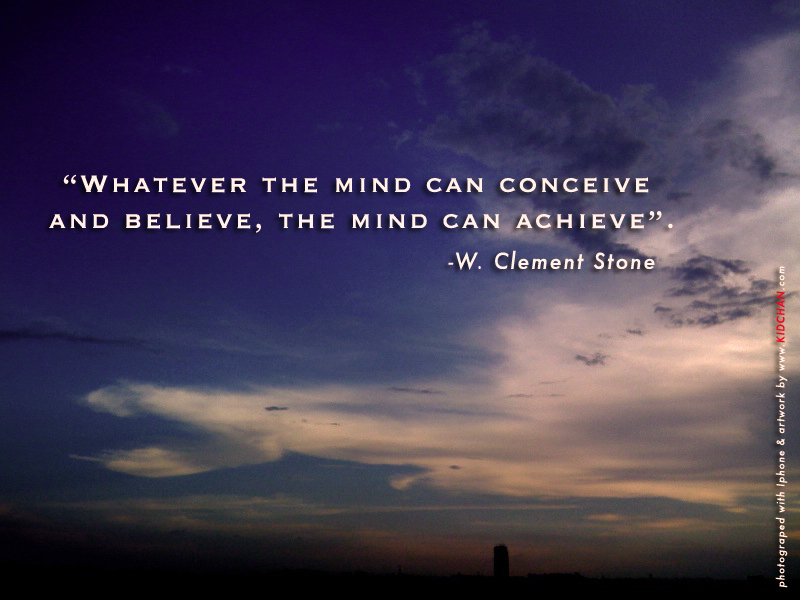 About the desktop wallpaper:
Photo: I was standing on my balcony one evening during the "magic hour" I saw a very intense and contrast blue sky. So i quickly whipped my iphone and snapped the picture.
About the quote:  "Whatever the mind of man can conceive and believe, it can achieve." by W. Clement Stone is one of my favorite quotes. However i also believe to achieve we require our Daily Deliberate Action
So feel Free to right Click this link to Download the above Free inspirational Wallpaper
You can find out how to install your desktop wallpaper on you PC or MAC here.
Is there any other quotes that you want to see one my future Free inspirational wallpaper? I will definitely credit you as well.
If you like and are inspired with the above wallpaper, please share with your friends on twitter and facebook k?
Thanks!
Cheers,
Kid Chan
|KIDCHAN on Youtube| |KIDCHAN on Twitter| |Add me on Facebook| |KIDCHANSTUDIO Website|