Dear all,
I both humbled and honoured to join a distinguished panel of international award-winning Guest Speakers from Singapore, Indonesia and Thailand in 'All Things Wedding' Conference & Exhibition 2017, The first Southeast Asia wedding trade event and Premier wedding exhibition held in Malaysia.
Yours truly, Kid Chan will present on "Marketing & Positioning Yourself As A Photographer" which touches on how to shape an entrepreneur's mindset in handling trials and tribulations, personal branding and building a wedding business that is competitor proof.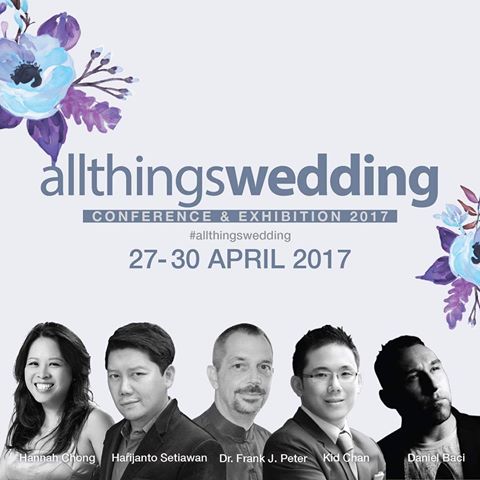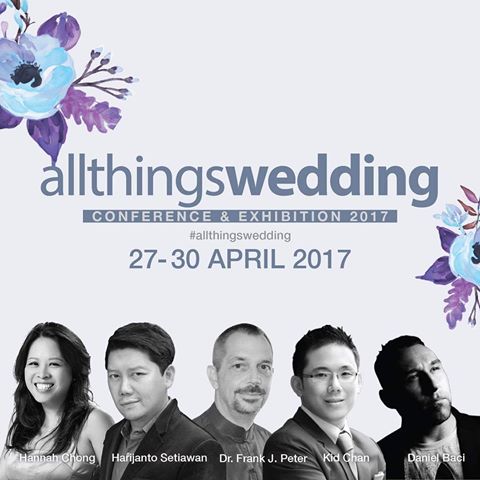 To cater to both trade and consumer needs, the event comes in two prongs – networking cocktail on 27 April 2017, followed by conference and workshops on 28 April 2017. The exclusive wedding exhibition showcase by boutique vendors will take place from 29 to 30 April 2017. The conference includes a business-matching session, which is a conducive platform for creative entrepreneurs to create opportunities for strategic partnerships to expand their business sources in Southeast Asia.
The complete list of distinguished international GUEST SPEAKERS are:
Ms. Hannah Chong from Singapore. The Founder & Creative Director ofHeaven's Gift Pte. Ltd. Singapore Tatler has awarded Hannah as the "Top Wedding Planner" for 8 years running.As a special events planner with more than a decade of experience in creating unique event experiences in Singapore and overseas, she will share on the foundations of creating and producing extraordinary events that not only wows, but ones that can be sold.
Dr. Frank J. Peter a registered Google-certified Educator, Singapore Institute of Management (SIM) certified trainer and is Google- certified in Mobile Advertising. In "Leap Into Action: Boost Your Business With Social Media Marketing", he will discuss how to re-innovate tactics to leverage social media marketing channels in producing leads and sales.
Mr.Harijanto Setiawan based in Singapore. Founder &Principal Floral Designer of
Boenga Pte. Ltd. He has won numerous awards including Silver Leaf Award in the International floral art
2010/11 – Belgium, Designer of the Year 2013 – President's Design Award Singapore, International Designer of the Year 2015 by Fusion Flowers London and Gold medal at Sanya Flower Show, China 2016, to name a few.
He is also the Principal floral consultant for The Ritz-Carlton Hotel Krabi, Intercontinental Hotel Danang St. Regis Singapore and the former President of Floral Designers Society Singapore. In the workshop, Harijanto will speak of "Evolving In The World Of Floral Artistry".
Mr.Daniel Baci from Thailand. Founder of Daniel Baci Photography & The Baci Productions is Daniel has been rated "TOP TEN" of Thailand's Hotlist for best wedding photographers by Junebug Weddings, a reputable USA-based bridal portal known for its notoriety reserved only for artists of exceptional talent. In "Stand Out From The Rest" workshop, Daniel highlights tips in producing an emotive story through videography, advantages to offer both photography and videography services and steps to evolve from a photographer to videographer.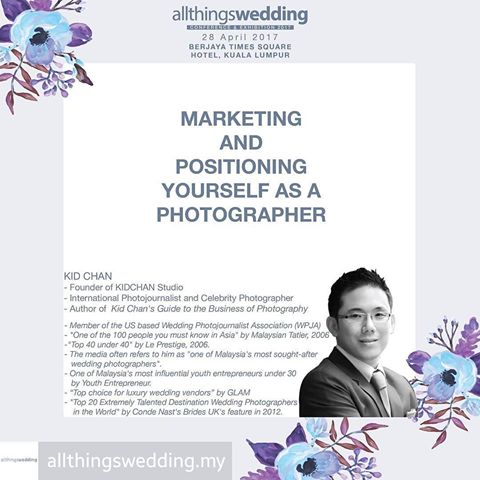 The wedding exhibition on 29 and 30 April 2017 is designed for soon-to-wed couples who seek for personalised curated wedding affair, translating their dream concept to reality. With increasing trend of couples seeking to host wedding reception abroad, Tourism Authority Of Thailand will be on-hand to suggest some of the most breathtaking locations in Thailand.
First 250 couples who register will receive generous goodie bag upon arrival and be entitled to lucky draws. Grooms will be pampered with grooming service by Truefitt & Hill, personal styling consultation from Styled Crew and respite over a cup of freshly brewed coffee by Cottle Coffee in the Gentleman's Lounge.
More information and registration details are available at facebook.com/allthingswedding.my and Instagram: @allthingswedding.my.
Exhibitors/businesses that are interested to take part in the event may send their enquiries to Joanne Teo at joanneteo@marketology.com.my
Rates start from RM3,000 nett for all-in-one conference and exhibition package, RM2,000 nett for exhibition only and RM200 nett per person to attend conference and workshops only.
Space is limited.
P.S: Wedding couples Can Register now for a FREE welcome gift : https://goo.gl/forms/bdUokau5XjYelI4V2