To say that the country has a boatload of photographers and photography studio is true. To say that the country only has a handful - a really select group of highly-trained, well-exposed and experienced international photographers is also true.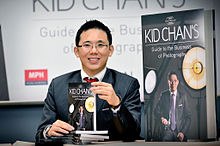 Team KIDCHAN opportunely, falls into the second category. Coming to you with vast experience in the area of commercial photography, you name it, they've done it. Led by our Executive Creative Director & #1 Bestselling Author of Kid Chan's Guide to Business of Photography- Kid Chan himself, the team will and has taken corporate portraits of the country's leading who's who, board of director's profiles, Journalistic shots, product photography, advertising photo shoots, food photography, architectural shots, high fashion photography and the like.
Bringing real style photography to a whole new level,Kid Chan and Team's photos evokes a sense of reality and beauty, enhancing the senses, delivering honesty.
Our Corporate services includes:
Products Photography
Food Photography
Campaigns Photography
Editorial Photography
Special Assignments
Travel Photography
A Partial Client List of past and present client of KIDCHANSTUDIO includes: